What is The PROPOSED Bike park?

On January 5, 2021, Phil Bouchard and Jason Evans from New Hampshire met with the community to propose a lift-access free ride and downhill mountain bike park. You can view their 2021 presentation here. Then on July 27, 2022 Phil and Jason, along with Travis Beck, a consultant with the SE Group out of Frisco,CO, held another community meeting as required by Jefferson County. They haven't yet released the video of the meeting or the slides they showed. When they do, if they do, we will link them here.
Their proposal is to lease State Land Trust property West of Conifer on Shadow Mountain Drive, see the green area on the map below. Their current lease with the State Land Board is to explore building a lift-access bike park - like Trestle at Winter Park - and call it Shadow Mountain Bike Park (formerly Full Send Bike Ranch). They are expecting hundreds of downhill and freestyle mountain bikers daily with the developers estimating at the Community Meeting in 2022 that there would be more than 1,000 bikers on peak days in 500+ cars that would be driving to and from the Bike Park (more than 1,000 vehicle trips) on Shadow Mountain Drive.
The project would consist of a lift (like a ski lift), a 300-space parking lot (comparable to the King Soopers parking lot in Aspen Park-Conifer), and a lodge that would have bike rentals, bike service, and retail. In the 2022 Community meeting they stated they would no longer be looking to have a bar or food in the lodge and instead would have food trucks available for customers.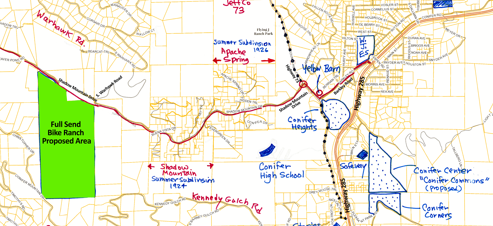 Below are the conceptual plans Full Send Bike Park presented in the July 2022 community meeting.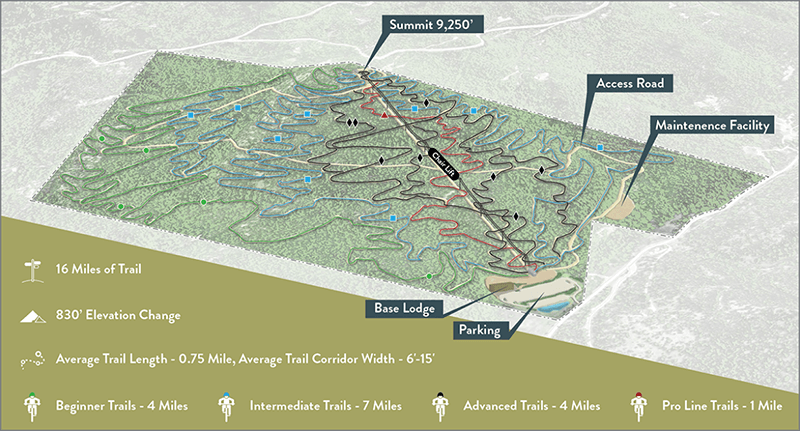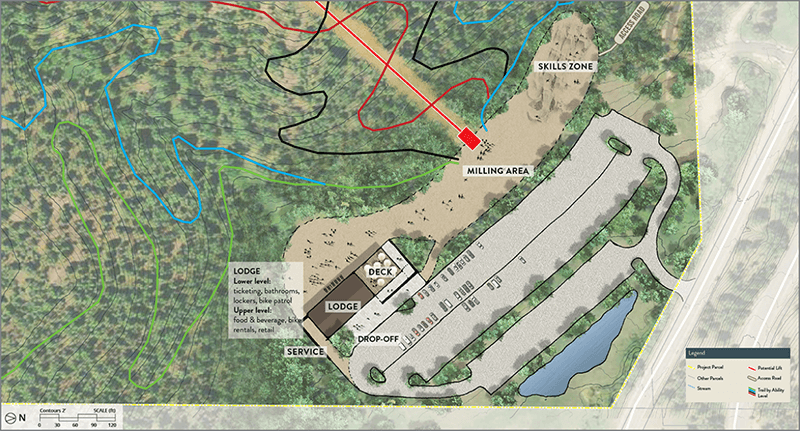 Their plans include developing 230 acres into 16 miles of downhill trails with 830 vertical feet accessed by a chair lift and supported by a maintenance facility, lodge and parking area all accessed off Shadow Mountain Drive east of Warhawk Drive.

Shortly after they presented the original concept to the community in January 2021, Stop Full Send Bike Ranch, now called Stop The Bike Park, was formed to oppose this proposed commercial development in the middle of a pristine, environmentally important meadow in the heart of a residential area with narrow winding roads. You can learn more about why we oppose the project on our home page and on the FAQ page.