What is The PROPOSED Bike park?
On January 5, 2021, Phil Bouchard and Jason Evans from New Hampshire met with the community to propose a lift-access downhill and freeride mountain bike park to be built on 273 acres of a Colorado State Land Board parcel 2.2 miles west of Route 73 on Shadow Mountain Drive. The bike park name was originally Full Send Bike Ranch, but was renamed Shadow Mountain Bike Park in 2022.
The property is zoned Agricultural Two ("A2"), currently undeveloped, and occasionally used for agricultural and grazing purposes. The young developers are asking for a special use permit to begin construction of their bike park. They believe the project will have minimal impact on matters of great concern for area residents, including wildfire risks, excess traffic, destruction of key wildlife habitat and vegetation, overloading emergency response teams, and impairing the public health and welfare.
The proposal calls for construction of a four-passenger chairlift to transport guests and bikes to the top of Conifer Mountain, creating 16 miles of trails, constructing access to and space for a parking lot to accommodate guest vehicles, a day lodge with restrooms, a 300 space parking lot, changing rooms, bike and equipment rentals and other guest services. To address food and beverage needs there will be locally based food trucks (which may or may not serve alcohol).
The developers propose to operate from March 1 through the end of November, a 9-month season, but aiming to allow guests to ride almost year-round. Special events such as fat tire events or other winter activities may be held from December 1 to March 1. During this time, select trails within the bike park would be open to the local community for hiking and snowshoeing.
They are expecting an average of approximately 700 downhill and freestyle mountain bikers daily, with the developers estimating at the Community Meeting in 2022 there would be more than 1,000 bikers on peak days in 500 cars that would be driving to and from the Bike Park (1,000 vehicle trips) on Shadow Mountain Drive.
Beyond the seeming confidence of the developers, what they are in fact proposing is a large commercial facility located in the middle of a pristine, environmentally important meadow on narrow, winding Shadow Mountain Drive in a residential neighborhood with homes dotting the hillsides. The bike park would verifiably increase the chances for a catastrophic wildfire threatening the homes and lives of residents and bikers alike, and cause monster traffic on an already dangerous neighborhood road, almost certainly leading to an increase in car crashes, injury and even loss of life. The park would also generate the well-documented, guaranteed injuries of downhill mountain biking added to already overburdened area emergency response teams, not to mention waste disposal for 700 expected people daily that could easily pollute or deplete community water wells and devastate the wildlife population and ecosystem.
We have thoroughly combed through the developers' plans and attempts to demonstrate compliance with the required criteria. The result of our scrutiny is to find it amazing that they have gone forward with an application submission riddled with so many verifiably non-compliant items.
If you would like to review the developers' entire application for yourself the link below will take you to the County's website where all of the documents live. We recommend you look in the "Current Referral Documents" folder for all of the documents submitted. Be warned, the application is lengthy. If you would like a shortcut, you can view their 26-page cover letter for an "executive summary" of the application.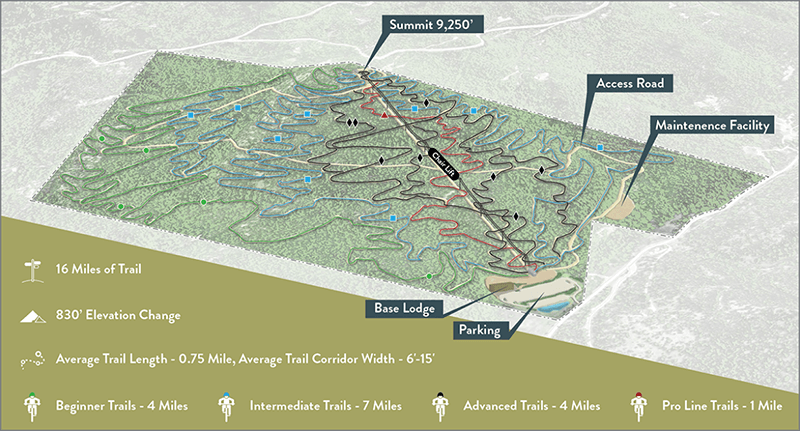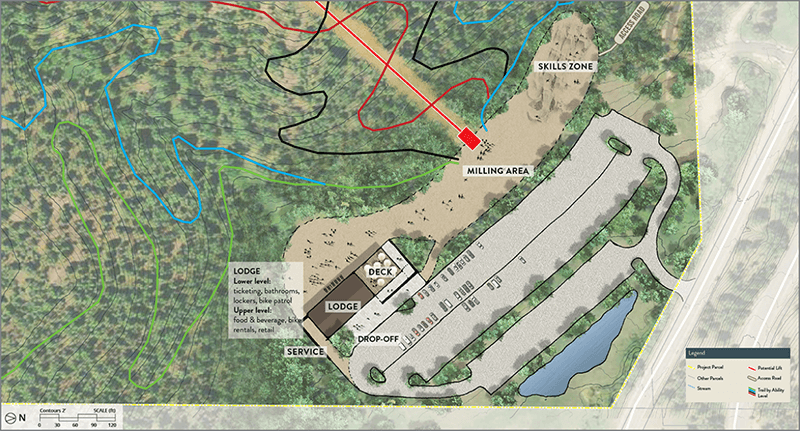 Their plans include developing 230 acres into 16 miles of downhill trails with 830 vertical feet accessed by a chair lift and supported by a maintenance facility, lodge and parking area all accessed off Shadow Mountain Drive east of South Warhawk Drive.