What is The Process for approval of this project?
Let's start with the fact that this project cannot proceed without several approvals from the Jeffco Planning Commission, then from the Jeffco County Commissioners, and lastly from the State Land Board.
The property is currently zoned A-2 or Agricultural. This means the developers will have to receive a special use permit in order to build a bike park; there is no use by right for a bike park on A-2 zoned property. The process begins with a required community meeting, which they hosted on July 27, 2022. They now have one year in which to complete studies on things like traffic, water usage, wastewater, drainage, fire protection, parking, visual impact, forest management and anything else the Jeffco planner requires.
Once the developers have completed their studies, they will submit a special use application to Jeffco Planning and Development and that starts a review process that will take no fewer than 85 days. We have laid this process out in the graphic below.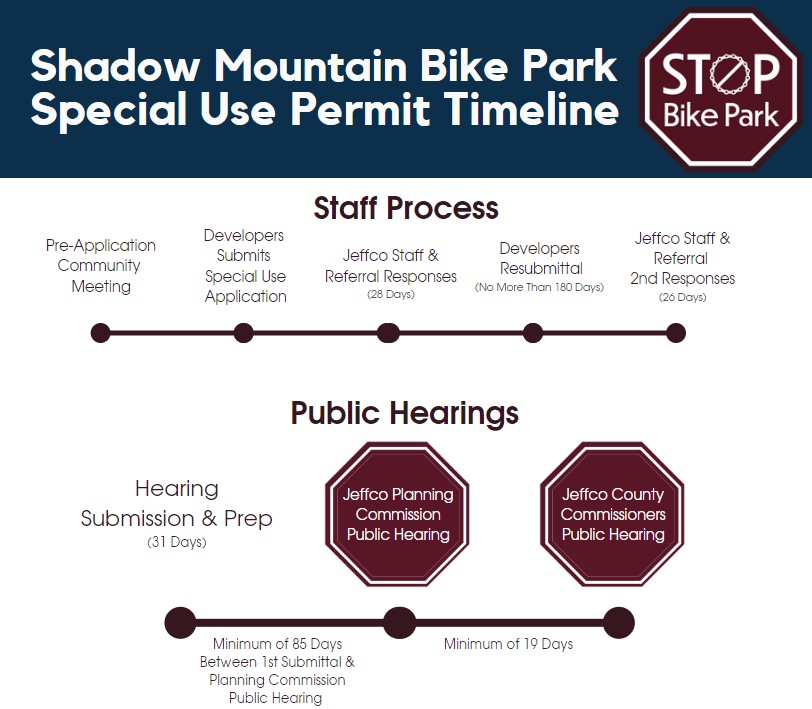 Reasons Jeffco can oppose
When dealing with land use cases there are a lot of rules that Jeffco has to follow. You can see all of them in the zoning resolution, available here. You will want to pay particular attention to Section 6 about the Special Use process, which is what process the developers said they would be using. In section 6-D you will see there are five reasons that Jeffco can deny the developer's application; the reasons are listed below. Stop the Bike Park has been and will continue to be focused on putting together an excellent case for denying the application when we go in front of the Jeffco Planning Commission on why this development violates all 5 reasons. There are many more reasons why we oppose this development but only these five reasons can be why Jeffco denies the special use permit.
We believe we can and will stop this project!

You can download a one pager on the process and reasons for denial here.
July 27, 2022
Pre-Application Community Meeting
The presentation made by the developers was not made available to the public
June 5, 2023
Jeffco Staff & Referral Responses
December 2023
Developers Must Resubmit Application
They have up to 180 days from when they received their comments from the county to resubmit their application answering the questions that the County raised.
26 Days Later
Jeffco Staff 2nd Referral Responses
Assuming the developers resubmit their application before early December that revised application will then go back to the referral agencies for comments on the revisions
31 Days Later
Hearing Prep
Once the comments from the second referral have been received by the developers they prepare for the public hearings.
Public Hearing!
Jeffco Planning Commission
The
Jeffco Planning Commission
will meet and hold a public hearing, anyone can sign up and speak three minutes in opposition or support of the bike park.
Public Hearing!
Jeffco County Commissioners
The Planning Commission will vote whether to recommend approval or not and it then goes to the County Commissioners for the final vote.
THIS IS WHERE WE STOP THIS PROJECT!